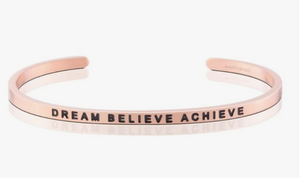 Dare to dream big dreams,

Believe that you can do great things. 

Keep going until you achieve.

If you can imagine it, if you can feel it, 

if you just believe it, then you can do it. 

Dream bigger, believe with all your heart,

face your fears, achieve your dreams.
Rose gold bracelets are 18K gold dipped over stainless steel.
Made of hypoallergenic, tarnish resistant, lead free stainless steel.
Fully adjustable and will fit most wrist sizes.