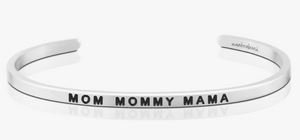 Mantra Band Mom Mommy Mama Bracelet
Three sweet words that mean the world. It means I love you, you are my safe place,  my grounding person, my comfort, my mom. My first love, first friend, forever in my heart. Wear this as your reminder that you are more than enough, and you are truly, deeply loved.
Gold & rose gold bracelets are 18K gold dipped.
Fully adjustable and will fit most wrist sizes.