Hello Gorgeous!
I'm Amy, owner of Ellipsis Boutique here in Buda, TX! We opened our doors back in August 2017 with the goal of sharing a love of fashion and community with all your lovely faces.
We offer a variety of contemporary women's styles and brands of clothing and accessories!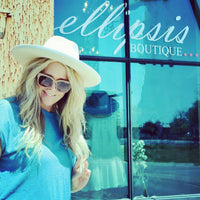 Follow Us on Instagram! @ellipsisboutiquebudatx
Location
Come See Us!
306 S. Main Street Suite 105
Buda, Texas 78610
Tues - Fri, 10am - 6pm
Saturday, 10am - 5pm
Sunday, 11am - 4pm
Monday, Closed